At West Cancer Center & Research Institute, we offer the widest range of radiation therapies in the Mid-South. With over half of our cancer patients receiving radiation, you can trust our radiation oncologist to provide treatments that not only shrink tumors but spare healthy surrounding tissue.
Our Radiation Oncology Department is 1 of 6 centers in Tennessee to have achieved APEx accreditation, an acknowledgment from the American Society of Radiation Oncology (ASTRO) for providing the highest quality patient care and meeting rigorous standards of excellence.
Patients can receive state-of-the art radiation therapies at 4 locations: Germantown, TN Campus; Corinth, MS Campus in partnership with Magnolia Regional Hospital; Dyersburg, TN Campus; Paris, TN Campus in partnership with Henry County Medical Center.
What is Radiation Therapy?
Radiation therapy is the use of various forms of radiation to safely and effectively treat cancer and other diseases. Radiation therapy works by damaging the genetic material within cancer cells. Once this happens, the cancer cells are not able to grow and spread. When these damaged cancer cells die, the body naturally removes them. Normal cells are also affected by radiation, but they are able to repair themselves in a way that cancer cells cannot. Your radiation oncologists will develop a plan to deliver the radiation to the tumor area, shielding as much surrounding normal tissue as possible. Your radiation oncologist may recommend using radiation therapy in a number of different ways.
Below are radiation treatments available at West: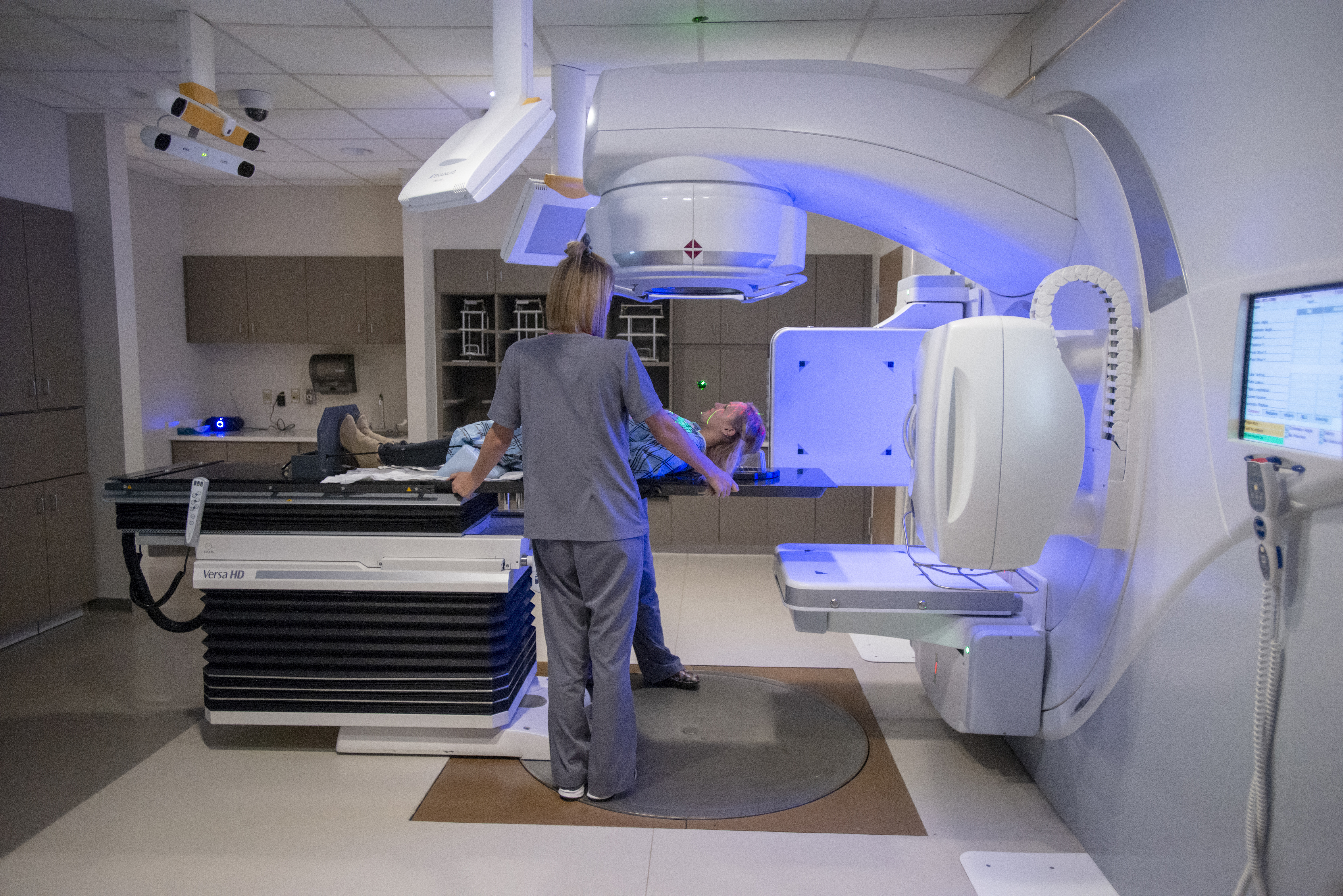 GYN HIGH-DOSE BRACHYTHERAPY
Brachytherapy is a critical component in the treatment of cervical and endometrial cancers. Brachytherapy is a type of radiation therapy where a radioactive source is placed close to the tumor or area of interest. Because of a woman's anatomy, there is a unique opportunity to use this type of treatment. This opportunity allows us to deliver a high dose of radiation to the tumor or area of interest while minimizing radiation dose to normal tissues. This treatment opportunity translates into great success in the treatments of cervical and endometrial cancers. There are two different types of brachytherapy, low dose rate(LDR) and high dose rate(HDR). These treatments differ in the amount of time required to deliver the desired dose to the tumor or area of interest. High dose rate(HDR) brachytherapy has been the preferred form of brachytherapy in the setting of endometrial cancer for some time. For cervical cancers, HDR brachytherapy has become the preferred form of brachytherapy since it does not require hospitalization, limits radiation exposure to hospital personnel, and has similar outcomes when compared to low dose rate brachytherapy.
INTENSITY-MODULATED RADIATION THERAPY
Intensity-modulated radiation therapy (IMRT) is an advanced mode of high-precision radiotherapy that uses computer-controlled linear accelerators to deliver precise radiation doses to a malignant tumor or specific areas within the tumor. IMRT allows for the radiation dose to conform more precisely to the three-dimensional (3-D) shape of the tumor by modulating—or controlling—the intensity of the radiation beam in multiple small volumes. IMRT also allows higher radiation doses to be focused to regions within the tumor while minimizing the dose to surrounding normal critical structures. Treatment is carefully planned by using 3-D computed tomography (CT) or magnetic resonance (MRI) images of the patient in conjunction with computerized dose calculations to determine the dose intensity pattern that will best conform to the tumor shape. Typically, combinations of multiple intensity-modulated fields coming from different beam directions produce a custom tailored radiation dose that maximizes tumor dose while also minimizing the dose to adjacent normal tissues.
Because the ratio of normal tissue dose to tumor dose is reduced to a minimum with the IMRT approach, higher and more effective radiation doses can safely be delivered to tumors with fewer side effects compared with conventional radiotherapy techniques. IMRT also has the potential to reduce treatment toxicity, even when doses are not increased. Due to its complexity, IMRT does require slightly longer daily treatment times and additional planning and safety checks before the patient can start the treatment than conventional radiotherapy.
OPTUNE®
Our Radiation Oncologists offer an FDA-approved, innovative treatment for Glioblastoma (GMB) Cancer. Optune is a wearable, portable device from Novocure that delivers Tumor Treating Fields (TTFields) to slow down or stop GMB cells from dividing, and destroys the cancer without disrupting healthy, resting cells. TTFields are continuous, low-intensity electric fields that complement existing surgical, systemic, and radiation therapy techniques.
Click here to learn more about Optune®
MRI BRACHYTHERAPY
Brachytherapy is a form of internal radiation with radioactive capsules targeted directly to the cancerous tumor, while sparing healthy, surrounding tissue. Our Radiation Oncologists can now use MRI guidance for better visibility and more accurate placement of these capsules for improved outcomes and reduced toxicity. Can treat prostate, breast and GYN cancer with brachytherapy. Click here to learn more. 
CRANIAL STEREOTACTIC RADIOSURGERY
Cranial Stereotactic Radiosurgery is a procedure similar to other forms of radiosurgery in that it is not surgery in the traditional sense – there is no incision. Our West Cancer Center providers work in collaboration with a team from Semmes-Murphey on one of the latest radiation machines called a MASEP Infini® that is located at the Radiosurgery Center of Memphis. The Infini has been proven to be more effective, faster acting can be delivered in minutes on an outpatient basis and is one of only two in the United States.
Click here to learn more about Cranial Stereotactic Radiosurgery
PARTIAL BREAST HIGH-DOSE BRACHYTHERAPY
HDR Brachytherapy is a targeted treatment that uses a high-dose of radiation directed right at the area where the cancer cells may remain. The therapy is delivered from inside the body and limits the radiation exposure to normal, healthy tissue. Using HDR Brachytherapy will lessen the side effects of radiation such as skin discoloration, scarring, burning, fatigue and damage to surrounding organs or tissue. After a lumpectomy, radiation therapy is often used to eliminate any remaining cancer cells. The goal is to keep the cells from replicating and coming back.
High Dose Rate Brachytherapy uses a high-energy source of radiation directed to the area where the cancer was removed. The source of energy disrupts the growth of the cancerous cells. Unlike healthy cells, cancer cells cannot repair themselves, making them vulnerable to radiation therapy.
PROSTATE LOW-DOSE RATE BRACHYTHERAPY
Low-dose rate (LDR) brachytherapy is a type of internal radiation therapy that delivers a high dose of radiation at a low-dose rate from implants placed permanently in the organ. Because the prostate gland is located close to the bladder and rectum, it is important for radiation treatment to be tightly focused on the prostate to avoid serious side effects. LDR brachytherapy offers a fast, more precise way to administer prostate cancer radiation therapy for some patients. LDR brachytherapy is applicable to virtually all stages of localized prostate cancer. In many cases, brachytherapy may be an alternative to surgical removal of the prostate.
STEREOTACTIC BODY RADIATION THERAPY
A stereotactic radiation treatment for the body means that a specially designed coordinate-system is used for the exact localization of the tumors in the body in order to treat it with limited but highly precise treatment fields. SBRT involves the delivery of a single high dose radiation treatment or a few fractionated radiation treatments. A high potent biological dose of radiation is delivered to the tumor, improving the cure rates for the tumor, in a manner previously not achievable by standard conventional radiation therapy.
What to Expect During Your Radiation Oncology Visit:
Our Radiation Oncology Department is comprised of highly trained Radiation Oncologists, Radiation Therapists, and Medical Physicists, along with a support team to manage and minimize treatment side effects such as skin changes, nutrition, and fatigue. Our team's goal is to use advanced therapies to deliver effective and safe radiation therapy to our cancer patients. Click here to learn more about what to expect during your Radiation Oncology visits at West Cancer Center.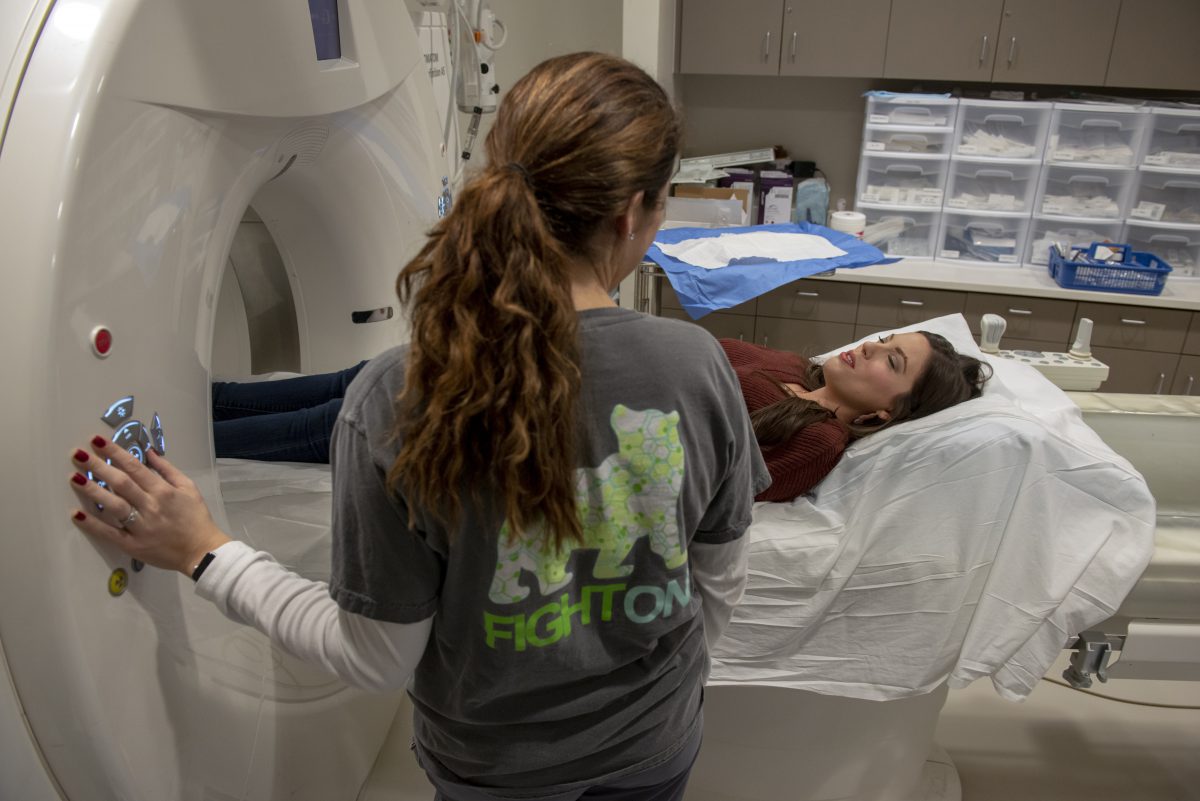 Radiation Oncology Research Programs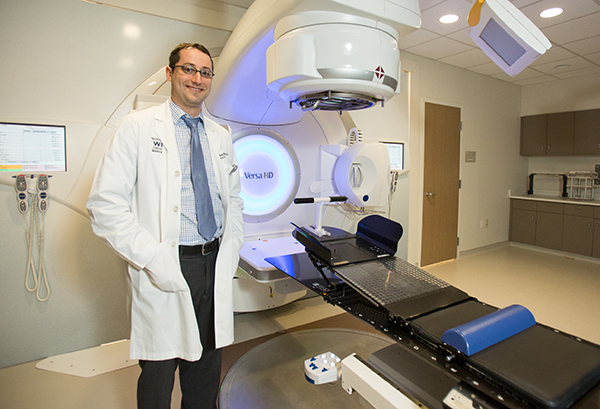 West Cancer Center's Older Adult Radiation Oncology Research Program and Clinic will work to improve the care of our senior adult patients through three initiatives:
Screening Geriatric Assessments
Counseling on Best Treatment
Clinical Research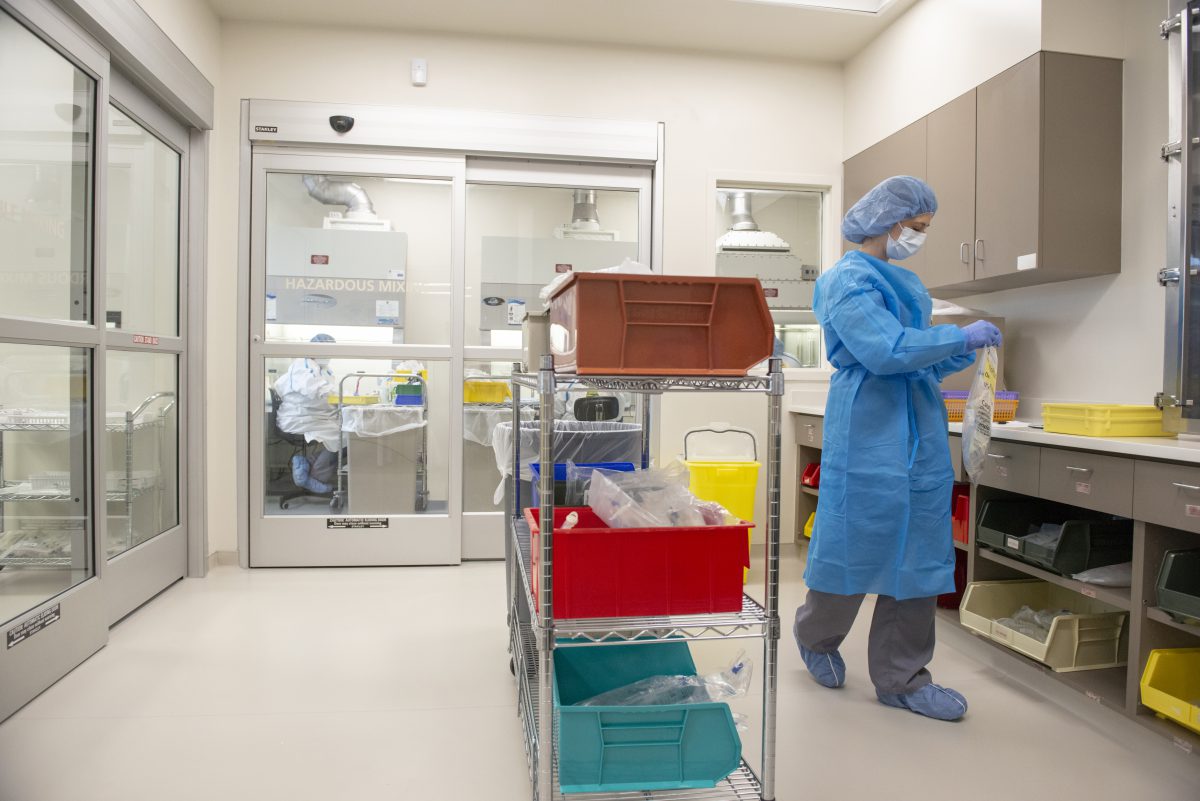 The body's immune system is a collection of specialized cells, organs, and substances designed to combat disease, like cancer. By developing a variety of treatments, immunotherapy's objective is to either identify and attack specific cancer cells or boost the immune system. The challenge is to "unmask" these cells that hide in the body as harmless cells.
Updates in Radiation Oncology: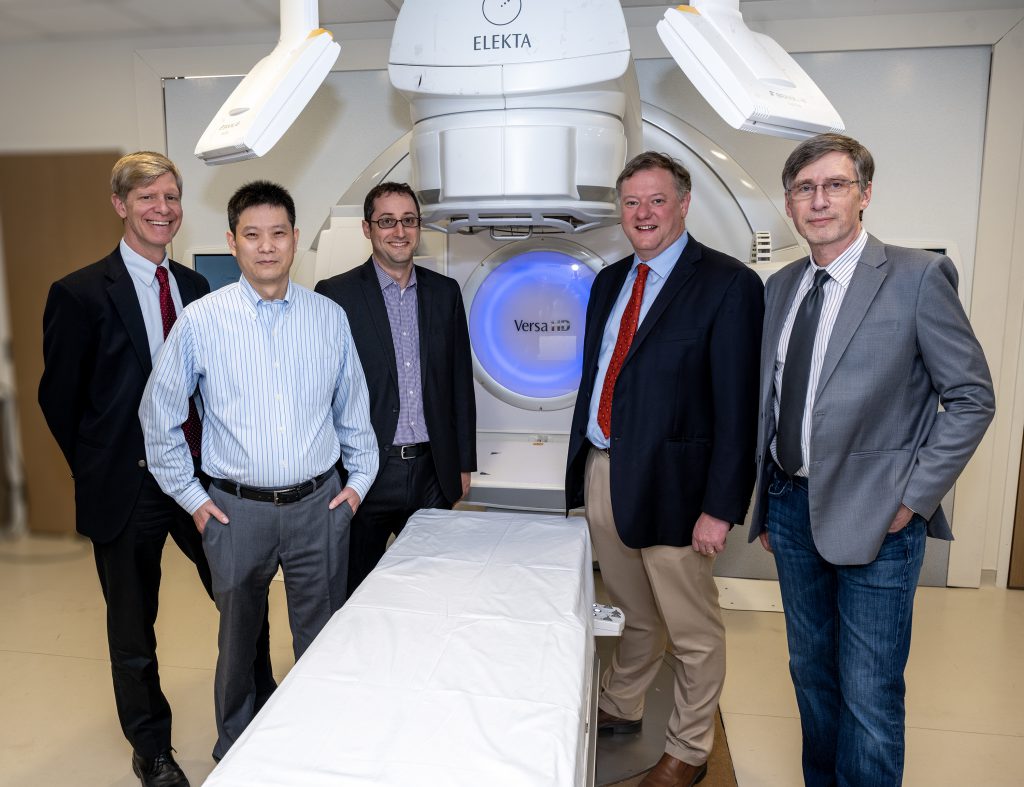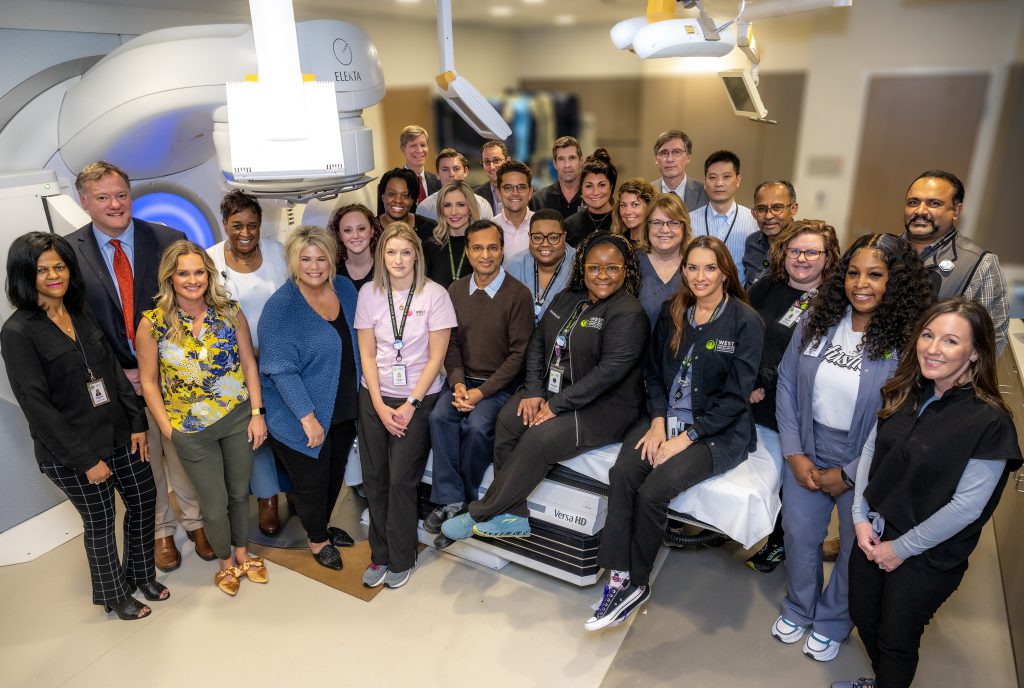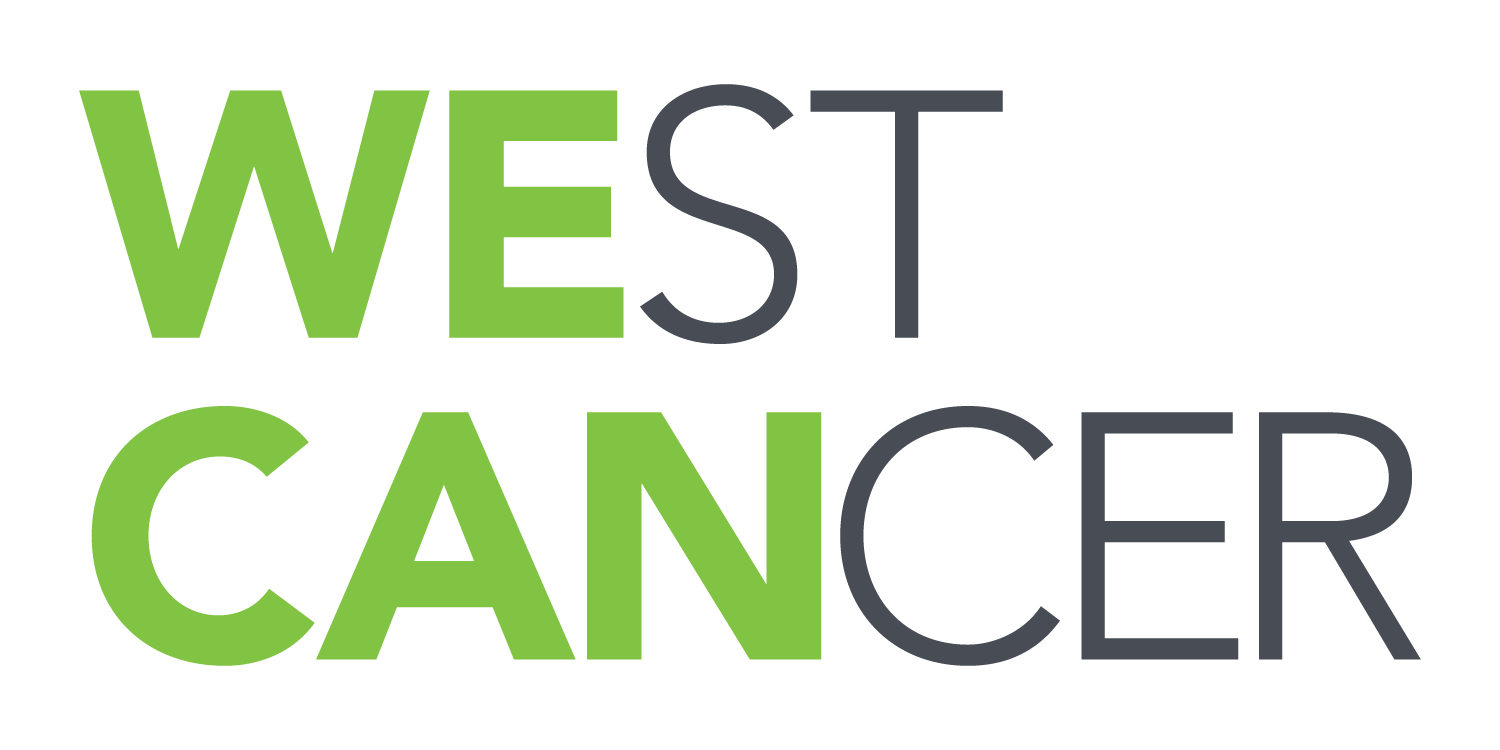 Learn more about how to schedule an appointment or refer a patient to our oncology specialists here at West Cancer Center.