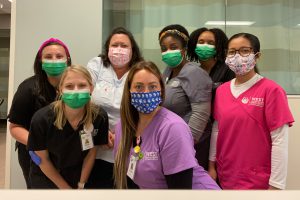 Nancy Childress is a metastatic breast cancer survivor, treated here at West Cancer Center. During the month of June, we asked our West family to share their stories of survivorship to help raise awareness for this disease and to encourage others currently fighting.
Nancy was kind enough to share her story with us, written below. If you would like to share your story, please click here to send it to our Communications Department.
Here is Nancy's Story:
"I was having some abdominal discomfort and was scheduled to have my gallbladder removed for gall stones in February of 2018. During surgery, my doctor noticed tumors on my liver and decided to biopsied them.
A few days later, I was told I had metastatic breast cancer and West Clinic was highly recommended. I could not be more happy with the care that I have received here. It has been 3.5 years, and I continue to receive immunotherapy every three weeks.
My advice to those currently fighting cancer is to live your life to the fullest every day! No one is guaranteed tomorrow.
My Bible verse of inspiration is Isaiah 41:10, which is 'Do not fear for I am with you. Do not be dismayed for I am your God. I will strengthen you and help you. I will uphold you with my righteous right hand.'
I appreciate everyone at West, especially the ladies at check-in on 2nd and 3rd floor of Wolf River, the Radiology/CT techs Keri Stewart and Chris Pruitt, all of the lab techs on the 2nd and 3rd floor, all of the infusion nurses – Jamie, Karen, Erika, Erin, Lyndsey & Mandy just to name a few, Dr. Tauer and his pod including NP Lan Tran, and Courtney. I can't forget the pharmacy who mixes my drugs and radiologists who read my scans! Thank you so much for doing such great things! My family and I appreciate everyone at West!"