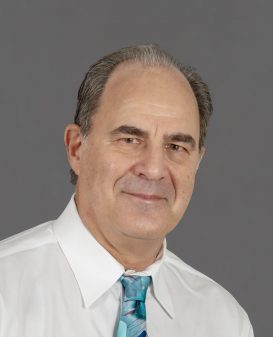 David B. Robins, MD
Roles
Pathology
Locations
East Campus
7945 Wolf River Boulevard
Germantown TN 38138 901.683.0055

About Me
David Robins, MD, is a Board Certified Anatomic Pathologist and Cytopathologist and Director of West Cancer Center Anatomic Pathology Laboratory.Dr. Robins is a native of South Africa who immigrated to the United States with his wife in 1986. His wife is a photographer and artist. He has three children, and enjoys photography, the outdoors, hiking, music, and watching and playing several sports.
On completion of his pathology residency training in Pennsylvania, and his fellowship trainings in Pennsylvania and MD Anderson Cancer Center in Texas, he joined the faculty at University of Texas Health Science Center, where he served as Medical Director of Cytology Services from 1991to 1996. He also served as the Medical Director of the Cytology Training Program for the University of Texas School of Allied Health Sciences from 1992 to 1996. He was a senior pathologist for a large Reference Pathology Laboratory in Nashville for an interim period before being recruited to Memphis and joining Duckworth Pathology Group in 1998. In subsequent years, he served as the Medical Director of Cytology at Methodist Le Bonheur Hospitals, Medical Director of the Duckworth Pathology Outpatient Laboratories, Cytology Medical Director of American Esoteric Laboratories, and Medical Director of the Cytology Program at the University of Tennessee School of Allied Health Sciences. Between 1998 and 2018, he served as senior pathologist for Duckworth Pathology Group and Memphis Pathology Group. During that time he developed special interest and expertise in the fields of breast and gynecologic oncology and served as the lead pathologist in those areas for the Methodist Hospital system. He cultivated a strong relationship with West Cancer Center, regularly participating in breast and gynecologic tumor boards and serving on its Committee of Cancer, National Accreditation Program for Breast Centers, Breast Surgical Fellowship and Gynecologic Oncology Fellowship committees, and participated in several grant studies and peer reviewed publications.
Dr. Robins joined West Cancer Center in January 2019 to develop its in-house Anatomic Pathology Laboratory and serve as its Medical Director. The laboratory opened in July 2019 and processes and evaluates biopsies and fluids obtained from WCC Interventional Radiology, Margaret West Breast Center, and West Cancer Center outpatient facilities.
Education
Dr. Robins completed his medical school training at University of Witwatersrand, Johannesburg, South Africa, in 1982. He then did his residency in anatomic pathology and a surgical pathology fellowship (with added emphasis in gynecologic pathology) at Penn State University followed by a fellowship in cytopathology at MD Anderson Cancer Center in Houston, with emphasis on the performance and interpretation of fine needle aspirations. He is Board certified by the American College of Pathologists in Anatomic Pathology, with Subspecialty Board Qualification in Cytopathology (1991).
Titles and Roles
Anatomic Pathology Laboratory Director, West Cancer Center
Associate Professor, Department of Pathology, University of Tennessee Health Science Center
Breast Malignancies Tumor Board
Gynecologic Malignancies Tumor Board
West Cancer Center committee
National Accreditation Program for Breast Centers (NAPBC) committee
Breast Surgical Oncology Fellowship Program
Gynecologic Surgical Oncology Fellowship Program
Areas of Expertise
Breast Cancer
Gynecologic Cancer
Solid Tissue Oncology
Cytopathology including Fine Needle Aspiration
Society Memberships
American Society of Clinical Pathologists
American Society of Cytopathology
College of American Pathologists
Memphis and Shelby County Medical Society
Tennessee Medical Association
United States and Canadian Academy of Pathology
Research and Publications