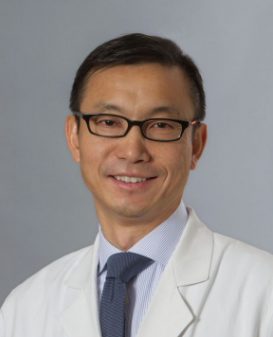 G. Gary Tian, MD, PhD, FACP
Roles
Medical Oncology / Hematology
Locations
East Campus
7945 Wolf River Boulevard
Germantown TN 38138 901.683.0055

Brighton Campus
240 Grandview Dr
Brighton TN 38011 901.683.0055

About Me
Board certified in Medical Oncology and Internal Medicine, Dr. Tian specializes in Oncology/Hematology and is licensed to practice in Maryland, Mississippi, Tennessee and Arkansas. Dr. Tian has been in practice in the Memphis area since 2003. He is a member of the American Society of Clinical Oncology, the American Society of Hematology and the American College of Physicians. Dr. Tian specializes in Oncology and Hematology with particular interests in lung cancer, colorectal, head & neck, and breast cancer. Dr. Tian believes in teaching patients about their illness in order to help them better understand the disease process and treatment options. His scientific background lends to the philosophy of bringing cancer care "from bench to bedside." Outside his practice, Dr. Tian enjoys traveling, spending time with his family and playing various sports. He has been an avid soccer player since college. He also enjoys playing golf, roller-skating, and skiing.
Titles and Roles
Medical Oncologist and Hematologist, West Cancer Center
National Comprehensive Cancer Network (NCCN) Guidelines Committee on Hepatobiliary Cancers
Assistant Professor of Medicine, the University of Tennessee Health Science Center
Clinical Pathway Committee, West Cancer Center
Former Chair, pharmacy committee at St. Francis Hospital, Bartlett, TN
Training
Dr. Tian began his higher education at Peking University, Peking P.R. China where he received his B.S. in Pre-Med Sciences. Dr. Tian left China to come to the U.S. in order to pursue his interests in the sciences. He studied gene regulation in carcinogenesis and earned his Master's Degree in Biochemistry from Rutgers University, New Brunswick, New Jersey. Dr. Tian continued his research at Brandeis University, Waltham, Massachusetts, and was awarded a PhD in Molecular and Cell Biology. His research included gene regulation in immunoglobulin and T cell activation, which have been shown to be critical in pathogenesis in leukemias, lymphomas and multiple myeloma. Dr. Tian's research was well published in peer reviewed journals; and although Dr. Tian had become an accomplished scientist, he decided to return to Peking Union Medical College in 1996 in order to complete his studies in clinical medicine and obtain his medical degree. After earning his MD, Dr. Tian returned to the states where he completed his internship and residency in Internal medicine at The St. Vincent Catholic Medical Centers in Queens, New York. His oncology/hematology fellowship was completed at University of Maryland Medical Center in Baltimore, Maryland.
Research
Dr. Tian is a principle investigator with the phase I and phase II clinical trials at West Cancer Center.
Publications
Dr. Tian has published many articles and posters/abstracts, most recently appearing in the American Society of Clinical Oncology, as well as the American Association for Cancer Research. 
To view Dr. Tian's most recent publications, click here.
Education
MD, Peking Union Medical College
PhD, Brandeis University
MS, Rutgers University
BS, Peking University
Residency
Internal Medicine – The St. Vincent Catholic Medical Centers
Fellowship
Medical Oncology/Hematology – University of Maryland Medical Center
Board Certifications
Internal Medicine
Medical Oncology