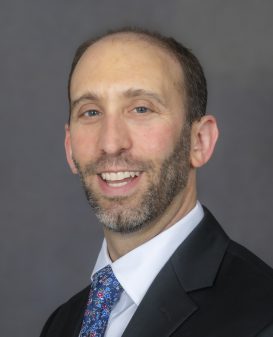 David C. Portnoy, MD, FACP
Roles
Medical Oncology / Hematology
Specialty
Lung Cancer | Skin Cancer | Sarcoma | Brain Cancer CNS
Locations
Corinth Campus
2001 State Drive
Corinth MS 38834 662.286.3694

East Campus
7945 Wolf River Boulevard
Germantown TN 38138 901.683.0055

About Me
David Portnoy, MD  is board certified in internal medicine, oncology, and hematology. His clinical and research interests include sarcomas, lung and gastrointestinal cancers, and benign hematology including blood clotting disorders. He sits on the Small Cell Lung Cancer Panel of the National Comprehensive Cancer Network and the Practice Partnership committee of the American Society of Hematology. He has published his research on the molecular basis of prostate cancer and is also the co-author of a book chapter on drug-induced hematologic toxicity. He sees patients at our Humphreys and Corinth locations.
Dr. Portnoy is a member of the American Medical Association, the American Society of Clinical Oncology, the American Society of Hematology, and the American College of Physicians and he views his role in the treatment of cancer as that of an advocate for his patients. He considers the trust that his patients place in him a privilege that carries a responsibility of fighting for the best outcomes while never neglecting their physical, spiritual, and emotional needs.
Dr. Portnoy enjoys spending time with his wife and young daughters. He is an avid guitar player and appreciates the great musical traditions of the region.
Education
MD, SUNY Upstate Medical University
BA, Brandeis University
Residency
Internal Medicine – Hospital of the University of Pennsylvania
Fellowship
Hematology/Oncology – Beth Israel Deaconess Medical Center
Board Certifications
Internal Medicine
Medical Oncology
Hematology
Awards and Honors
The Endocrine Society Medical Student Achievement Award (2003)
Alpha Omega Alpha (2002)
Letter of Commendation in Physiology (2000)
Dean's Letter of Commendation for Academic Excellence (1999 – 2002)
Dean's List for Academia Excellence (1995 – 1999)
Justice Louis D. Brandeis Academic Scholarship (1995 – 1999)