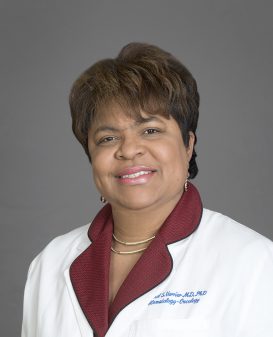 Carmel Verrier, MD, PhD
Roles
Medical Oncology / Hematology
Locations
East Campus
7945 Wolf River Boulevard
Germantown TN 38138 901.683.0055

Brighton Campus
240 Grandview Dr
Brighton TN 38011 901.683.0055

About Me
Dr. Verrier joins the West Cancer Center faculty as a Medical Oncologist and Hematologist. Prior to joining the West Cancer Center team, Dr. Verrier served as a Medical Oncologist and Hematologist at Ratliff-Verrier Cancer Clinic in Cordova, Tennessee.  She relocated to Memphis in 2007 following the completion of her fellowship at Duke University medical Center in Durham, North Carolina. Dr. Verrier is fluent in English, French, Creole, Spanish and Slovak. She is a member of the American Medical Association and the American Society of Clinical Oncology and is board certified in Medical Oncology and Internal Medicine.
Research
With a history of compassionate clinical care coupled with a scientific background in molecular and cellular pathology, Dr. Verrier's research interests have primarily focused on breast cancer – including challenges in for HER2-positive breast cancer as well as translational therapeutic strategies for this disease state.
Publications/ Presentations
To view Dr. Verrier's recent publications, click here.
Education
MD, St. Louis University School of Medicine
PhD, Vanderbilt University
BS, Barry University
Residency
Internal Medicine – Westchester Medical Center
Fellowship
Hematology/Oncology – Duke University
Awards and Honors
Residency

Most Outstanding Performance on the Oncology Service, Dept. of Medicine, WMC (2001-2002)
Outstanding Performance as a PGY-I in the Adult Primary Care Center, Dept. of Medicine,WMC (2001-2002)
Excellence in Teaching Award, Dept. of Medicine, WMC (2002)
Distinguished Performance Award as PGY-II in Internal Medicine, WMC (2002-2003)
Excellence in Teaching Award, Dept. of Medicine, WMC (2003)
Outstanding Performance Resident in Ambulatory Clinic, Dept. of Medicine, WMC (2003-2004)
Best Overall PGY-III in Internal Medicine, Dept. of Medicine, WMC (2003-2004)
Medical School

James Campbell Scholarship (4 years)

Undergraduate School

M.A.R.C. (Minorities Access to Research Careers) Grant
Honors Association, Barry University Science Club, Barry University
Beta Beta Beta Biological Honor Society, Barry University
Dean's list, Barry University