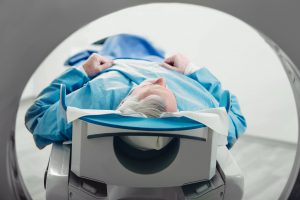 Our West Cancer Center's Radiology Department is pleased to announce the addition of Axumin (fluciclovine F 18) PET imaging beginning February 6, 2020. This will expand our imaging capacity for men with suspected prostate cancer recurrence.
We recognized the increased need for this imaging and welcome the opportunity to take care of your patients with both precision and expediency.
What is Axumin?
Axumin® (fluciclovine F 18) is an advanced diagnostic imaging agent, or radiotracer, that is used with a positron emission tomography (PET)/computed tomography (CT) scan for men who have had prior treatment for prostate cancer and now have elevated prostate specific antigen (PSA) levels.
What to Expect:
Patient receives the Axumin injection 3-5 minutes prior to PET/CT scan
Scan takes about 20-30 minutes
Patient will review results with their physician during their next office visit.
Up to 40% of patients who have been diagnosed and treated for prostate cancer have a recurrence within 5-10 years.
Recurrent prostate cancer is when your cancer has come back after you have had treatment like prostate surgery or radiation. It can also come back later after being treated with other medicines, including hormone therapy.
You are part of a team of shared decision makers in your prostate cancer treatment, and it's important to be informed about all available options.
To learn more about Axumin PET Imaging, click here.